EGYPT - GREECE - TURKEY- CELTIC/GAULOIS- ROME - MOYEN AGE - PARIS
- Images 3D : possibilité d'adapter le format d'image, lumière et cadrage/ angle de vue, ajout de personnages et animeaux,..
- Possibility to adjust the picture size, lighting and framing / angle, adding characters and animals, ..
- Formats - usages : disponible en grand format (300 dpi) et adaptation TV/cinéma (matte paintings, plans animés) 2D et 3D/relief.
- Uses: available in large format (300 dpi) and adaptation for TV / film (matte paintings,animation) 2D and 3D.


CELTIC - GAULOIS





OPPIDUM GAULOIS - SURVOL (3D)
Lieu de refuge, l'oppidum est considéré comme la première forme de ville fortifiée de la civilisation gauloise.


CELTIC OPPIDUM - AERIAL (3D)
The oppidum is the fortified settlement of the celtic civilization.





FERME GAULOISE (3D)
Délimitée par un enclos, l'habitation est entourée d'animaux élevages, volailles et animaux domestiques.


CELTIC FARM (3D)
The settlement is enclosed and surrounded by some livestock buildings.





MAISON GAULOISE (3D)
Située à côté des villages, la maison gauloise est à la fois un lieu d'habitation et un centre d'exploitation d'un domaine agricole pour de riches propriétaires.


CELTIC HOUSE (3D)
Near to the villages, the celtic house is both a dwelling place and a farm land for rich owners.






PORT GAULOIS (3D)
Les voies fluviales se développent et favorisent les échanges commerciaux.


CELTIC HARBOUR (3D)
The development of many shipping roads facilitates the transport of goods and the exchange market.






OPPIDUM GAULOIS - PORTE (3D)
Lieu de passage obligatoire pour entrer dans l'oppidum, les portes jouent un rôle capital dans la fortification.


CELTIC OPPIDUM - GATE (3D)
The door are the essential crossing so as to enter into the oppidum.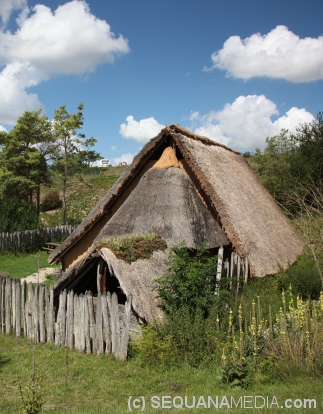 Samara : maison gauloise / celtic house

Images de restitutions historiques
2D/3D multi-usages (presse, expositions, documentaires TV, cinéma, films 3D, bornes interactives,..).